Did you catch some of the latest research from BCG Henderson Institute?  They have found that only 57% of individual contributors think that their manager is transparent with them about change where as 80% of managers feel that they are transparent!  That's a huge difference when authenticity and trust are often developed through transparency.
Why does this happen?  The term they give it is empathy amnesia when individuals are promoted into leadership positions they forget the view that they had before.  They forget what it was like not to have a full view of the situation and as information is given to them as a leader they fail to remember that was not available to everyone.
What's the solution?
Active perspective taking and seeking. This is such an important skill for everyone to have but whats the difference between the two?
Perspective seeking –   Is the act of establishing connection, seeking to understand, asking clarifying questions. As a result you build an understanding of the other whilst building rapport and trust.
Perspective taking – Is when you combat your own biases while listening and frame your view of a situation in the way the other is describing/experiencing. Listen without the assumption that the experience the other is having is similar to the way that you have experienced instead for a moment, assume that their experience is 100% true.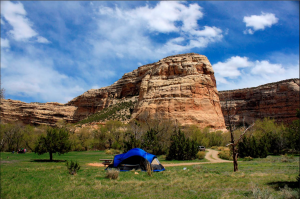 A visual representation of this important skill is summed up in a recent experience that I had.  I just got back from a rafting trip with my family on the Green River through Dinosaur National Monument in Colorado and Utah.  There was a particular rock formation called Steamboat Rock that left a lasting impression on me.  When we rounded the bend in the river and I saw it I was awe struck!  I didn't have my camera with me in the particular boat I was in at the time so I couldn't get a picture.
I came home and did a quick Google search and found the picture above of Steamboat rock by the National Park Service.  It is quite impressive but nothing like the perspective I had on the river as I was encountering it as a small raft next to an ocean liner.  If you only has this perspective you might never be inclined to take another look or visit this national monument and learn the histories of this native land and ceremonial site.
The perspective that I would have to describe to you is in the power of the picture below.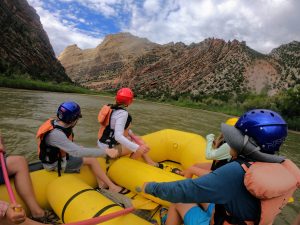 Can you see the giant bow of the ship???? jutting up on the right with the Captain's bridge just where the blue sky breaks through the clouds?
Without this picture or evidence from your own experience you would just have to believe what you had which was the National Parks picture. That's what you might be missing without the critical skills of perspective seeking and taking.
Try it today, immerse yourself in someone else's perspective seek it out believe it as much as you believe your own perspective, if only for a moment,notice the new ideas that emerge.
This is a power skill for organization change!  I hope you use it often so that you see Steamboat Rock in each perspective you seek.
If you would like help continually taking on perspectives and seeking perspectives during change check out our
Change Accelerator
launching in September!